Registration is open for the Olympic Solidarity course of Sciences Applied to Sport for Coaches
8/19/2022
The Applied Sport Sciences Course for Coaches (CAD Course), organized by the CAR, in collaboration with the INEFC and under the auspices of Olympic Solidarity (International Olympic Committee), reaches its 45th edition this fall, and the inscriptions are open.
Over the years, more than six hundred coaches, from more than 30 countries and three continents, have been trained in these courses. Until 2019 the courses were entirely face-to-face, but after the Covid-19 pandemic a mixed model has been chosen. In the first half of 2022, the face-to-face module of the course offered by the Sant Cugat High Performance Center was the first authorized by the IOC.
In this new model, students take 190 hours of classes online and 110 face-to-face at the Center, taught by more than 40 professionals.
If edition 43 and 44 of the CAD Courses were the ones for the implementation of the mixed model, edition 45 introduces new subjects, which are the following: Doping; Olympic values; Gender equality in sport; and a Participatory discussion table with coaches and athletes.
The 45th CAD course will be divided, as was done with the 43rd and 44th, into two groups. The first group will start the online module on October 1, 2022, while the second group will do so on October 24. Both groups will carry out the face-to-face module in Catalonia already in 2023, in February for the first group, and in March for the second one.
Registration is open until September 17.
More information about the course and how to apply here.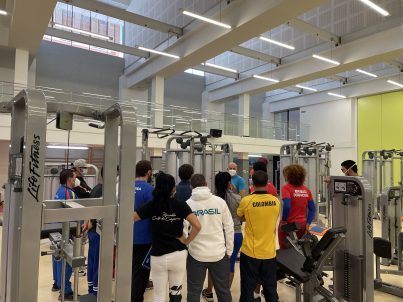 A practical class of the 43rd CAD Course