Several finalists in the European athletics
25/8/2022
The city of Munich hosted the European Athletics Championships from the fifteenth to the twenty-first of August, with the achievement of several finals by CAR athletes. Apart from the Center's athletes who participated, the previous days our Center also hosted the preparatory concentration for the two 4×400 m relays, both for women and men.
The most outstanding result was Sara Gallego's fourth place in the 400m hurdles, thus closing her best season. Gallego was also part of the 4×400 relay, which finished eighth in the final. His teammate under the orders of Àlex Codina at the CAR, Jesús David Delgado, managed to pass the qualifiers, finishing 22nd in the semi-finals, also in the 400m hurdles.
The sprinter Jaël Bestué also played a good role, who was twelfth in the semi-finals, and who with the 4×100 m relay achieved fourth place in the final, very close to the podium.
Another outstanding relay was the men's 4×400, which with the presence of Samuel Garcia, Canarian athlete from the CAR, also came in fourth place, also achieving the Spanish Record.
Moving on to the jumps, Marcos Ruiz was fifth in the triple jump, also closing a good season, as he was runner-up at the Ibero-Americans.
A separate mention deserves the marcher Mar Juárez, ranked 7th in the 35 km march, just two months after overcoming thyroid cancer that kept her off the slopes for four months. In the same event, former CAR athlete Raquel Gonzàlez won the silver medal.
Marathon runner Marta Galimany, who uses CAR services, was 11th in the marathon, and with the Spanish specialty team won the team silver medal.
CAR's participation in the Europeans was closed by hammer thrower Laura Redondo, who could not pass the cut by six centimeters.
After the Europeans, the women's 4×100 relay, which includes Jaël Bestué, was invited to compete in the Diamond League in Lausanne on Friday, August 26.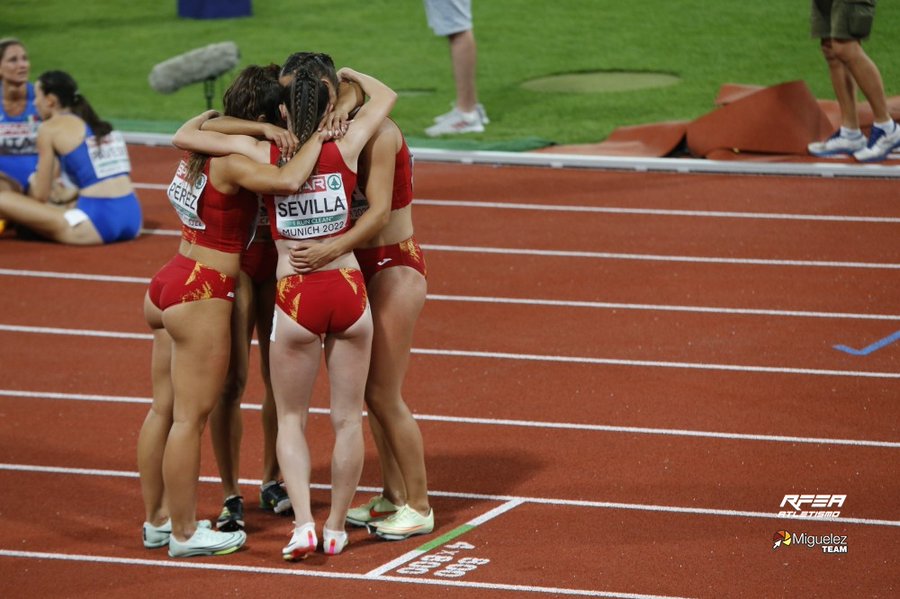 Photo: RFEA.The female 4×100 athletes hug each other